Year of Jubilee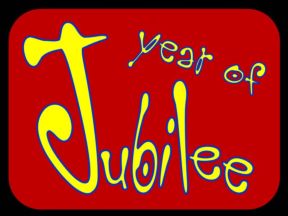 The Year of Jubilee was a time in the Jewish community that took place every 50 years. It was a time of great giving and great celebration. On May 3, 2009, Hillcrest Church decided it was a time for Sioux Falls to have a Year of Jubilee. Click on
www.hillcrestjubilee.blogspot.com
to read about the journey.
Jubilee Update
In May of 2009 Hillcrest had what we call the 'Jubilee'. The 'Jubilee' was that each Hillcrest family received $500 to bless others as they felt God leading them to do. You can find more info at the Jubilee Blog here (http://hillcrestjubilee.blogspot.com/2009_04_26_archive.html). The total for the Jubilee was $100,000 and came from the Reveal Funds (the Reveal Funds are funds separate from Hillcrest's budget that came from Hillcrest's sale of land in 2008 and were committed to being given away to local and global missions. They have paid for computers at Cleveland Elementary, backpacks through Feeding South Dakota, our adoption ministry, the remodeling of the Powerhouse Tutoring Center and funded last year's trip to plant a farm in Southern Sudan). There were some leftover funds from the Jubilee (as not every family claimed an envelope back in 2009) and Hillcrest's Leadership Council decided in January 2012 to make one time gifts to the following two organizations:
·

Ray and Susie Brown- the Browns attended Hillcrest several years ago before moving away from the area. They are pursuing an opportunity to serve as missionaries to Micronesia through Liebenzell Global Ministries where Ray will teach math and computer science at Pacific Islands University. More information is attached to this email.
·

Restoration Generation- this Sioux Falls-based ministry is led by Tom Henderson and ministers to students (middle school age through college age) through speaking at public school assemblies as well as concerts and church activities. They have a heart for young people and sharing the gospel with them. More information is attached to this email.
We will continue to update you on these organizations as we receive information but we wanted to pass along this information and encourage you through these partnerships. If you have specific questions, please email Brian at brianstroh@siouxfallschurch.com