Sudan Seed Planting Project
Date: November 17, 2010 - December 2, 2010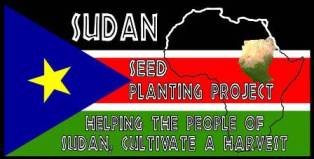 History of the Project
In 2007, Pastor Doug Bartel of Hillcrest Church and Pastor Julius Badigo of Falls Community Chapel began a friendship. Pastor Julius brought a proposal to assist his home land village in Sudan with an agricultural project. Over the next two years they met together and decided to join together in this humanitarian effort.
As a result of the long civil war in Sudan, the resources and infrastructure of the southern states had been eroded at such a level that starvation, disease and human suffering had become a daily and unending reality. Safety, food security and access to clean water are the foundation stones needed to help Southern Sudan out of their current situation and into position to strengthen and redevelop the infrastructure needed for growth.
We realized that we had very little influence in the safety of the Southern Sudanese population but are hopeful in the outcome of the referendum in January 2011 that will allow Southern Sudan to secede from the north. There is a potential for renewed conflict as a result of this referendum but Southern Sudan is taking steps to assure the success of this political effort.
The next question was food or water. In discussing with Pastor Julius, he stated that sustainable food was most important. Though clean water is a need, the people have the opportunity to walk miles every day to a water source and bring it back to the village for boiling and use for the day. This process has to be repeated every day, but they do not have the same opportunity with food.
The current food situation is poor. Farming in the area is highly ineffective due to derisory technique and understanding of basic farming practices. There are many ways to address this situation and we decided that we needed to create a process that was not mechanical so the project would not be sidelined with breakdowns and challenges that would require more resources than the village would be able to manage.
We contacted an organization called Farming God's Way (FGW). It is a farming process that has been developed in the soils of Africa and has had great success in many of the surrounding countries. FGW agreed to come to the village to train the farmers and build some small test plots on location for the development of a larger farm down the line. The FGW technique is manageable with hand tool and can also be adapted for mechanical farming once the immediate sustainability is obtained and if the people show an ability to grow the farm project for market.
The Sudan Seed Planting Project will be a combined effort between Hillcrest Church and Falls Community Church to go into Southern Sudan and teach the local people in the village of Kalalayi, how to build and maintain a sustainable farm. We will focus on building relationships with the village and assessing the needs for future projects and assistance. We will also take the opportunity to teach about who Jesus is and fill in the gaps on their Christian understanding. An invitation for other villages and governmental figures will be extended in hopes that we can make as large of an impact as possible.
[
back
]